history of the augustine centre
The Augustine Centre combined with St David's Uniting Church in Canterbury in 2009 to form Habitat Uniting Church.
For 35 years, Augustine has sought to 'inspire people, ideas and spirit'. From 1971 to 2001, this was achieved through personal growth workshops, for which Augustine gained a significant reputation throughout Melbourne and Australia.
As interest in those types of courses waned in the 1990's, Augustine diversified into the areas of spirituality and holistic education while continuing to provide counselling to individuals.
As well as renting rooms to many interesting groups for workshops, training sessions, meditation, yoga, art exhibitions and concerts, we have formed partnerships with various groups who have set up offices in the building.
the augustine centre buildings
The Augustine Centre is a suite of buildings, managed by the Habitat Uniting Church. Augustine has a fascinating history covering more than 150 years.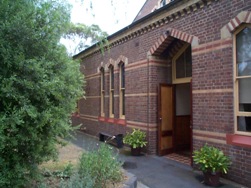 The front door of the Augustine Centre
The Hawthorn-red brick hall was originally built in 1889 as a Sunday School Hall for the Congregational church that fronted 500 Burwood Road. That church was built in 1881 and is now owned by Qanstruct, who use it as an administrative and architectural office.
When the church was sold, some of the money was used to renovate the hall and build the new suite of rooms at the back. The spacious hall area can now double as a gallery, a concert hall, a study/workshop room or a meditation centre. People are invited to use this space during the week as a quiet refuge to sit, restore, reflex, listen to music or read.