children's sacred space
'Jesus sat down, called his friends … then he called to a child in their midst; and taking her in his arms, Jesus said to them, 'Whoever welcomes one such child in my name welcomes me, and whoever welcomes me welcomes not me but the one who sent me.'

- Mark 9:35-37 NRSV
you are welcome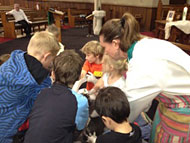 This church loves having children in our midst and you are welcome.
We are enthusiastic about creating a community where people of all ages feel they belong and develop a sense of 'having God within'. We recognize children are significant members of the community and hope to engage them with age appropriate activities in all aspects of the worship experience.
what happens at church for children?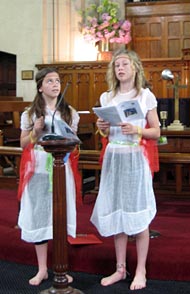 arrive: Each child is given a worship journal they can use to write and draw their reflections and ideas. The journal includes worksheets relevant to the theme for the week. Visiting children are given a copy of the worksheet as they arrive.
in church: Families can sit anywhere you like, or use the space on the right hand side of the church where young children can easily sit at a small table with quiet toys.
joining in: Encourage your child to participate in worship through songs, prayers and coming out to the front for Children's Sacred Space where they share in a story, conversation or activity with the ministry.
going in: A special program is provided for children in a room next to the church where they continue exploring the worship theme. When church becomes familiar, children are happy to leave parents and join the program. Parents are welcome to accompany their child, get them settled and return. Pre-school children will need a parent to stay with them.
exploring: The children explore the same theme as the adults following a pattern of: gathering, sharing, story, prayer and activity.
coming back: Near the end of the worship time, children come back into church and share with the congregation.
leaders
The leadership group meets several times a year to plan and support each other. They work in pairs and all have working-with-children cards.
registration
To register for the children's program contact Leanne Tully leannetully@iprimus.com.au.
dvd made by children