SWell Conference 2019
Unfolding Wisdom
October 18-20 - Habitat Uniting Church, Hawthorn
Join our annual showcase of SWell programs and practitioners. This year we listen for the unfolding wisdom of the old ways and learn the arts of connecting, healing, belonging and becoming in community.
The conference begins with a fabulous Friday night dinner where we open the Wisdom's Art exhibition and hear from indigenous performing artist Nancy Bates. On Saturday, listen for Wisdom with a day of inspiring speakers and interactive workshops conducted by SWell practitioners. Learn the wisdom of their healing modalities and taste of their group work processes and insights. In the evening, join the cabaret night with Nancy Bates in concert.
On Sunday morning share in the SWell community morning ritual for story telling, healing and connection. Nancy Bates is an artist to watch in 2019, launching the highly anticipated collaborative album 'FOR YOUR LOVE', recorded with The Baker Suite.
Four years touring with Archie Roach as backing vocalist, guitarist, and support act has influenced her song writing, fostering a deep maturity in her voice and her storytelling. Roach considers Nancy Bates to be one of the most gifted emerging singer-songwriters in Australia today. Few artists have the courage to be as vulnerable, and authentic in performing, as Nancy Bates. She 'empties her cup' twice for her audience… and they walk away overflowing. She 'empties her cup' twice for her audience… they walk away overflowing.
Nancy has performed internationally in France, the UK and New Zealand and nationally at major music and arts festivals including Woodford Folk Festival, Sydney Festival and WOMADelaide. She has spent much of 2018 working more locally, including running
song writing
workshops in the Adelaide Women's Prison and developing collaborative work with other female songwriters including Tara Carragher, Emily Davis and Jessica Wishart.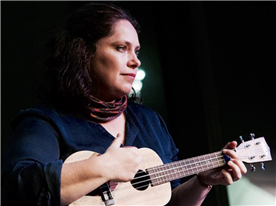 Friday 18th October:
Art Exhibition 5:30pm-9pm

- Drinks, Dinner with Nancy Bates & Opening of "Unfolding Wisdom"


Saturday 19th October: Conference 9am-5pm

-

Arrival: 9am
- Opening Gathering & Morning Tea: 9:15-10:15am
- Workshops: 10:30-11:45am
- Afternoon Tea: 2:30-3pm
- Closing Gathering: 4:30-5pm
- Nancy Bates Concert: 7.30pm (Habitat Uniting Church, Canterbury)
Sunday 20th October: Worship 10am
- Invitation to attend Habitat Uniting Church, Canterbury



· ENTIRE Conference (includes Saturday Night Concert): $220 (or 2 tickets $400)


· Friday ONLY (includes Dinner): $55 (or 2 tickets $100)


· Saturday Day Conference ONLY (includes Lunch): $125 (or 2 tickets $240)


· Saturday Night Concert ONLY: $40 (or 2 tickets for $70)


· Sunday ONLY: FREE
---